"It's been a long year." - everybody who lived through it.
happy new year
You may have missed me last year. That's because I quit 2020 in like, March. Here's what's new - in no order whatsoever.
Three.5 Years Late
I finished the long-awaited video featuring our wedding ceremony! After what appeared to be a strong start to the editing process, the entire project was erased fateful mid-morning when my computer crashed unexpectedly. Having already buried many hours into the project, I decided to table it indefinitely and let myself recover.
Fast forward three years, through another computer crash and several failed approaches at creating something memorable and timeless, and viola. This is the end result! At first I felt like I was settling for a lackluster end-product, and it's certainly light years from what I intended; but I think now perhaps I was wrong. This film stirs up a universe of emotion and reanimates the best day of my life, and it has certainly become a treasure to me. What a perfect day.
Hit play down below to watch the video!
The Continued Struggle to Leave Social Media
I've been detoxing from social media since November 3. I deleted facebook in 2019 and I've missed nothing about it. I've never really had a twitter account, or a snapchat account, and my tumblr died in 2013. I don't know what tik tok is, but it seems like instagram. Just use that.
My only social connection to others online has been through instagram, and I suppose that's the primary reason I've yet to delete it. I've essentially ceased activity on the platform. There's a few conversations I'm having with close friends, but otherwise I've managed to successfully ignore the internet since Biden won the election. And let me tell you; blessing and a curse.
I really don't mind being unplugged. But I do feel a heavy guilt for separating myself from people who care about me. And I want to be reachable by those people. So I've been brainstorming ways to stay connected without sacrificing untold amounts of data to be sold for profit by the evil Mark Zuckerberg & Co.
It's not a perfect solution, but it's a step in the right direction. So in the name of making a decision and committing to something, I've decided to make it my New Year's Resolution to bring my life back to the internet - albeit within the confines of my own website.
The way I see it, my work is more visible here than it is on my hard drives and yet, safer than it is on instagram. Those who want to see it should have the opportunity to do so. And those who don't want to see shouldn't be subject to it. Therefore, I am going to get to work on fleshing out a positive experience here on my site, starting with this cute little newsletter thing I have yet to define in its entirety!
Meanwhile, to keep those who may care up to date, I'll keep the little devil that is instagram active. But I commit to posting nothing more than reminders to visit my personal site.
Just For Fun
One of the many things I've been getting interested in pursuing lately is this free, open-source 3D modeling software I found on Steam called "Blender."
From raw creation, vertice by vertice, to texturing, shading, colorizing, animating, etc. One could essentially recreate their wildest fantasy with this engine, given the time and processing power. That notion has really let my own imagination run wild and I'm starting to get obsessed with it - as I have with so many other things.
This wooden chair is the first project I completed in its entirety, and I'm really satisfied with the result. I had a great time learning and I'm hoping that through continuing to learn, I don't lose interest; and perhaps it translates into something more than a fun alternative to gaming.
Time will tell!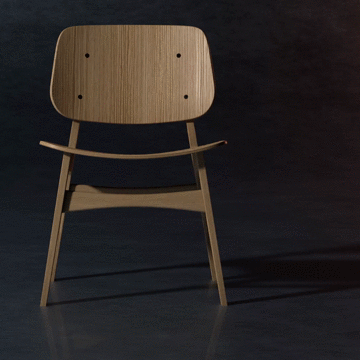 Stacey's New Gig
This is Stacey's last week at her company! She's been there 6 years - far longer than anywhere else she's worked. And she really loves the work she's done for her clinic. The people she's met and lives she's touched has brought a lot of joy and meaning to her work. But she's ready for a new adventure and is starting it a week from today!
The work is more meaningful, and we know the extra time in her schedule will open so many doors and allow her to focus on the pieces of her work that she finds important!
I'm so proud of her and all she has accomplished. She's a beautiful and good human in virtually every way.
And she's all mine - suckers.
What's Next?
2020 killed a lot of people and it was a shit year. I'm not going to spend any time going over all the ways it was the worst year in modern history; instead I'm going to talk about the ways it was better than normal for me. Primarily, my family is fortunate enough to understand how to follow basic directions from the experts, and I'm relieved we've lost nobody to this avoidable mess yet.
Indeed, in many ways I've personally thrived in these conditions. I've discovered how truly introverted I am, and how much I appreciate not feeling obligated to interact with anybody for any reason. It's gotta be one of the more liberating experiences to have a guilt-free holiday between me and my partner.
I've also rediscovered some lost interests and discovered some new ones that may just end up changing my life a little. Who's to say, really? Oh and that government check I got while I was furloughed for months was way more than I make normally.
Trump's dumbass is finally ignorable and I've found it much easier to let go of my need to know the most up-to-date news story.
My hope is that 2021 will allow me to finally focus on myself. There's a lot of stories on these hard drives waiting to be told!
We're Moving
If everything continues to move smoothly over the next twelve days, we will have purchased a new home - only minutes North of our current residence!
We have been living in Washington for seven years now, and Black Diamond for five. When we bought our place in 2015, we committed to staying put and re-evaluating things in 2020.
We agree we're not quite ready to leave Washington just yet. Not with Stacey getting a new job, and the pandemic creating such uncertainty around employment. However, buying a house where we did has turned out to be an incredibly good idea in hindsight, and has put us in the position to double-down on that good idea.
We seemed to have gotten lucky again in finding a killer place just up the road that checks all our boxes and will set us up for the next adventure. Cross your fingers everything goes as it ought to!